WACCINE compo. GR561
The highest meet rate in WACCINE's history!
18H average flight distance increased by +12 yards (With HS42-46 m/s according to in-house research)
FLEXIBLE YET HEAVY HIT. QUICK BEND-BACK PROVIDES INITIAL VELOCITY & STABILIZATION.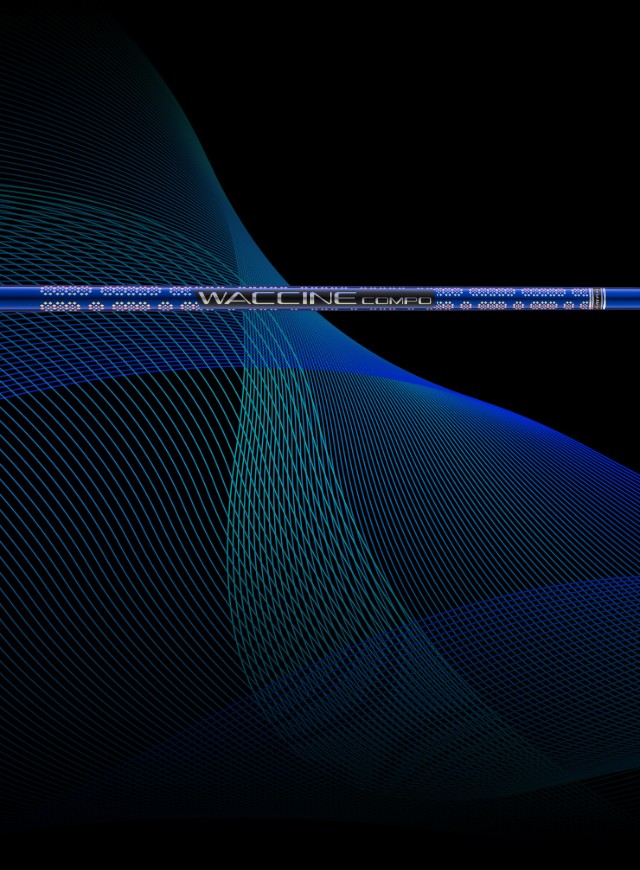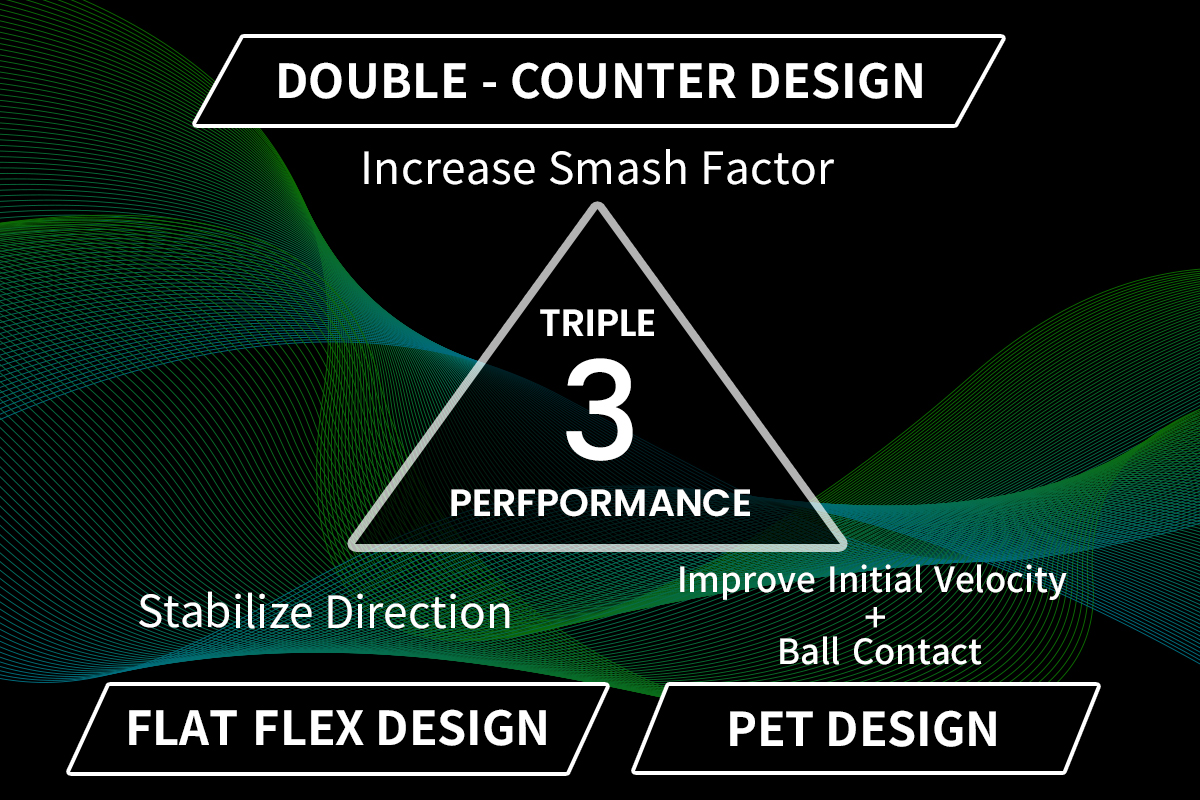 WACCINE COMPO'S
TRIPLE THREAT
Revolutionizing shaft with competitive advantage.
With the ultimate priority of driving distance, 'WACCINE compo. GR561' is an unrivelled shaft made of propriety design using the highest quality standards that cannot be imitated anywhere else.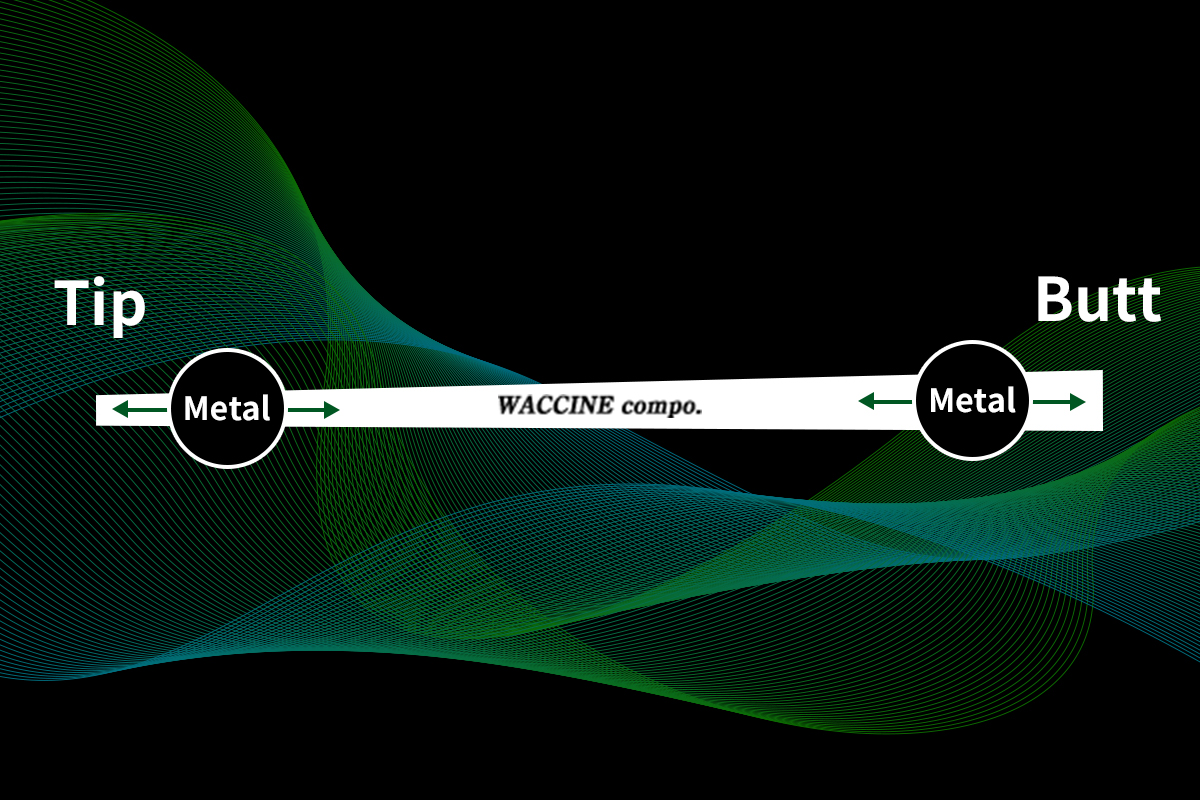 DOUBLE-COUNTER DESIGN (Pendulum Weight Distribution Design) since 2009
Manipulate "heavy" and "light" freely to increase your smash factor.
Unique formulation of metal at the tip and butt of the shaft. Maximize your swing and smash factor by the ability to feel the weight despite its lightness, and vice-a-versa, improve your swing-through and increase clubhead speed by the ability to feel lightness despite its weight. This proprietary mechanism allows optimal weight distribution that is suited for every type of golfer.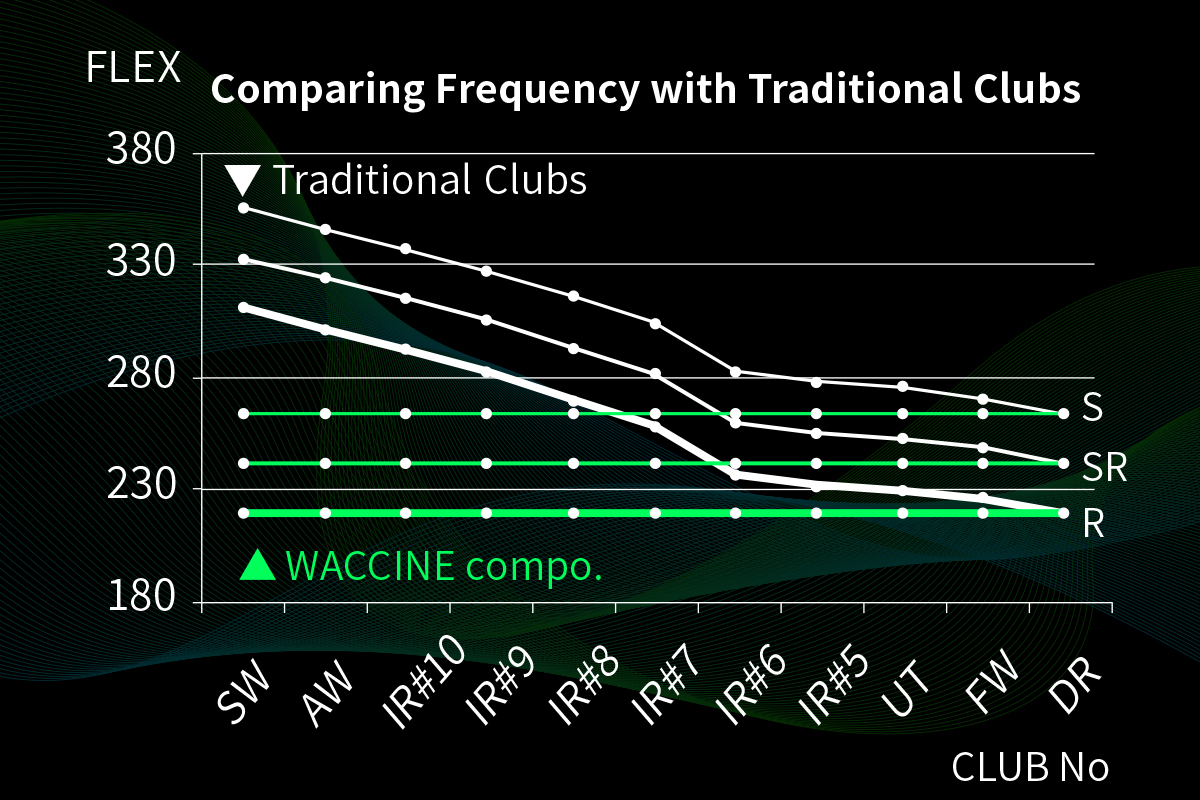 FLAT FLEX DESIGN (EVEN FREQUENCY MECHANISM Patent Pending) since 2018
Enables consistent swing from drivers to irons and stabilize direction.
In conventional golf clubs, the frequency of the shaft changes with each club which causes inconsistency in shots. As a solution, we have integrated 'FLAT FLEX DESIGN' which stabilizes the frequency of the shafts from drivers to sandwedge. With this innovative approach, you can expect an evolution in your driving distance and achieve a better score.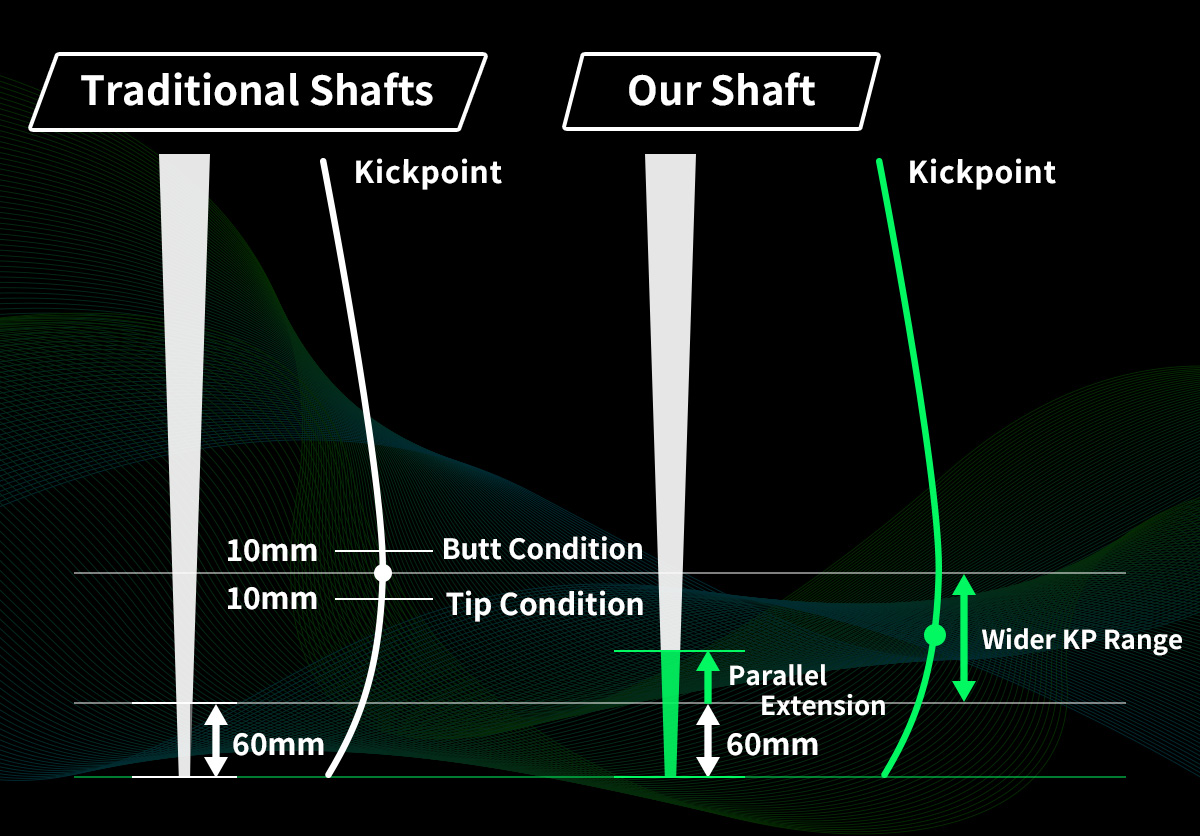 PET DESIGN (ULTRA-THIN PARALLEL TIP MECHANISM Patent Pending) since 2020
Improve 'initial velocity' and 'ball contact'.
With the conventional shape of a shaft, the allowable range of kick point (KP) was ± 10 mm, but by extending the straight tip length (parallel part) to about twice that of the existing shaft, the range of motion of KP has expanded dramatically. With our manufacturing technology, we are able to produce super-low KP shafts that have achieved unprecedented performance.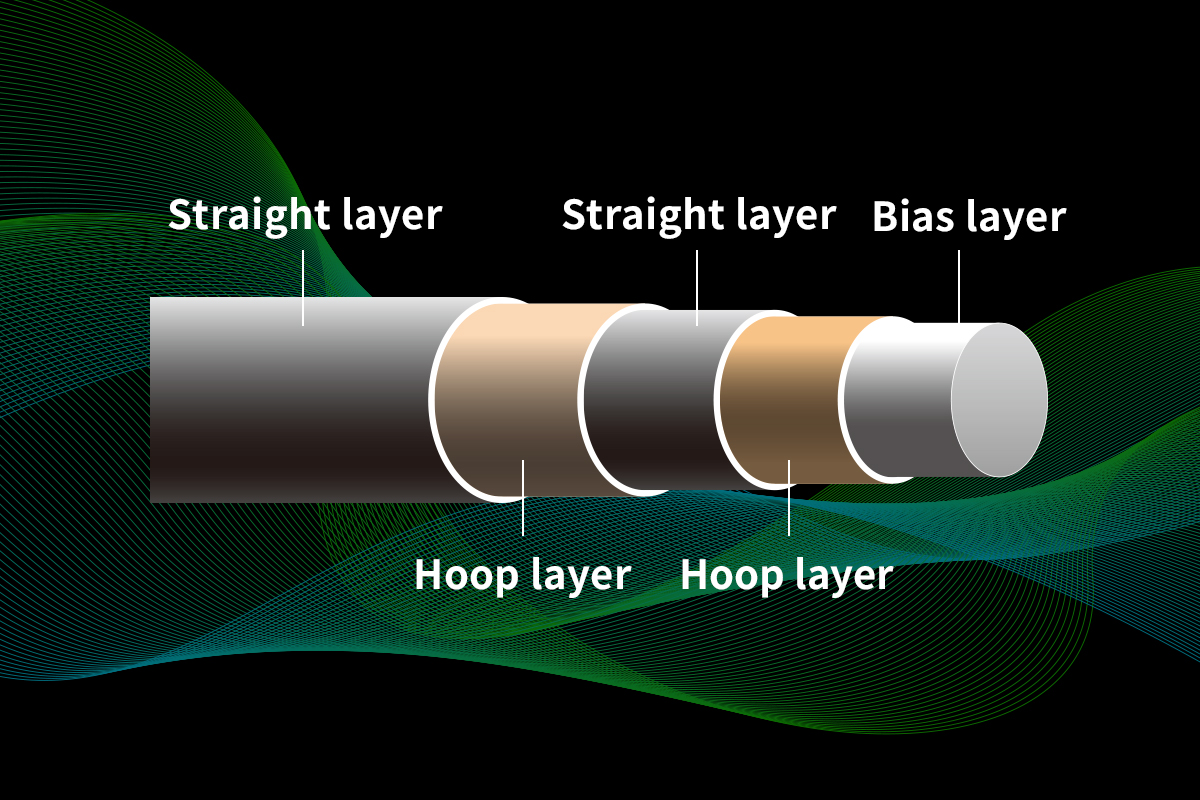 Carefully selected materials for those who wish to increase their distance
Highly elastic carbon and boron are incorporated in the optimal areas.
The initial speed is improved by quick bend-back.
Improved catch with high torque design. Sophisticated layer design (straight, hoop, bias layer) with high, medium and low elasticity materials are optimally combined to improve the overall ball catch.
Uses high-strength carbon fiber "T-1100G".
Combining this carbon fiber with the strength of the waist that pushes out the ball, it results in high strength low spin while still being lightweight.
Target golfers who :
Have HS42-46 m/s
Hit balls that go to the left and right (direction instability)
Low trajectory (ball does not rise)
Shaft suitability by Golfer Type
Bending distribution map

Product specifications


GR561 DR ¥80,000 (tax included ¥88,000)
Flex
S
X*
Fit in H/S
42~45
46~50
Weight(g)
61
65
Kick Point
Medium
Medium
Torque
5
4.8
New Frequency
(cpm)
237
275
Lengh
(Mm)
1181
1181
Thickness
15.4
15.6
G.C.L(%)
53
54
*Flex "X" is a made-to-order product.
GR561 FW ¥60,000 (tax included ¥66,000)
Flex
S
Fit in H/S
42~45
Weight(g)
63
Kick Point
Medium
Torque
5
New Frequency
(cpm)
236
Lengh
(Mm)
1118
Thickness
15.4
G.C.L(%)
53
GR561 UT ¥40,000 (tax included ¥44,000)
Flex
S
Fit in H/S
42~45
Weight(g)
73
Kick Point
Medium
Torque
4
New Frequency
(cpm)
235
Lengh
(Mm)
1041
Thickness
15.5
G.C.L(%)
54
GR561 Iron ¥30,000 (tax included ¥33,000)
Flex
S
Fit in H/S
42~45
Weight(g)
83
Kick Point
Medium
Torque
3
New Frequency
(#5/#7/#9)
245/255/260
Lengh
(Mm)
991
B-100
15.6
G.C.L(%)
55
* Frequency is a reference value when setting DR-45.5 FW-43 UT-40 IR # 5-38 / # 7-37 / # 9-36 D2 to 60 degree measurement method.